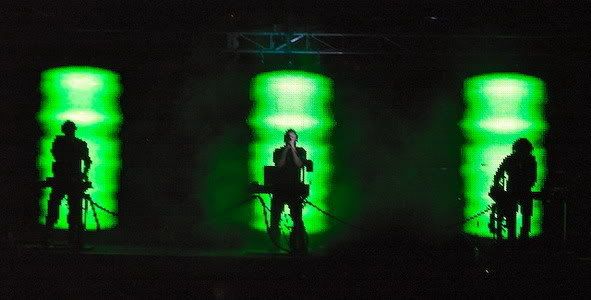 Nine Inch Nails auteur Trent Reznor today unveiled his hinted-at holiday gift to fans, in the form of a whole ton of video footage from his recently-completed Lights in the Sky tour.
Earlier in December, Reznor informed fans via a post on his blog that a planned 3D concert shoot with James Cameron's film crew fell through due to legal drama with NIN's former record label, Interscope, leading most fans to believe that the group's technologically groundbreaking Lights in the Sky tour would not see any kind of video release.
In his holiday update on Dec. 18, he hinted strongly that he had a surprise in store for fans. Today, he finally revealed his gift:
The internet is full of surprises these days.
I was contacted by a mysterious, shadowy group of subversives who SOMEHOW managed to film a substantial amount (over 400 GB!) of raw, unedited HD footage from three separate complete shows of our Lights in the Sky tour. Security must have been lacking at these shows because the quality of the footage is excellent.

If any of you could find a LINK to that footage I'll bet some enterprising fans could assemble something pretty cool.

Oh yeah, you didn't hear this from me.
The three concerts (Dec. 5 in Victoria, Dec. 7 in Portland, and Dec. 8 in Sacramento) were posted in BitTorrent form on the official NIN forum by NIN Art Director Rob Sheridan, along with a message encouraging fans to download the footage and create a DVD.